Published by Apex Grange on 9th Nov 2021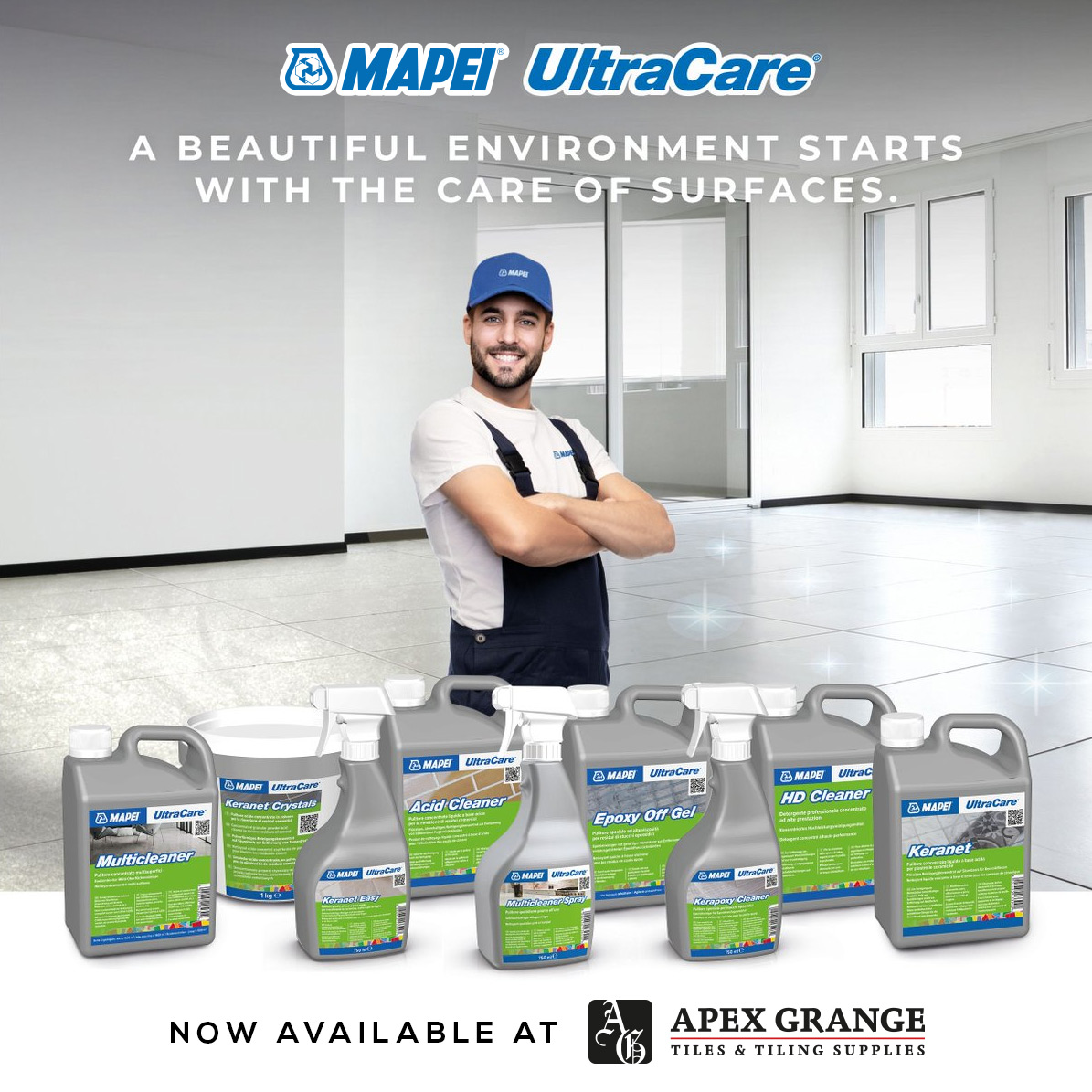 Once a surface has been created, designed and installed, regular maintenance is vital to preserving its functionality and beauty over time.
The Mapei UltraCare range has been specifically developed for cleaning, maintaining and protecting surfaces. These brand new products are ideal for commercial, industrial and residential surroundings.
Mapei's UltraCare range of products are versatile, reliable and innovative. These traits encompass all the experience and quality that Mapei products are renowned for.
The full UltraCare range includes:
ULTRACARE ACID CLEANER – Concentrated acid-based cleaner in liquid form to remove stubborn cementitious grout residues from glass mosaic, ceramic and acid resistant natural stone. Ideal for cleaning after installation and to remove salt and limescale efflorescence.
ULTRACARE EPOXY OFF GEL – Special high-viscosity cleaner to remove epoxy residues. Thanks to its viscosity, it is ideal for application on walls.
ULTRACARE HD CLEANER – Concentrated high performing professional detergent to remove organic dirt and to undertake a deep clean of surfaces. It is also effective as wax remover for water-based and metal-flake waxes.
ULTRACARE KERANET – Acid-based concentrated cleaning product in liquid form to remove cementitious residues from porcelain, ceramic and all acid-resistant materials. Ideal for cleaning operations after completing laying work, for removing salt and limescale efflorescence and rust stains.
ULTRACARE KERANET EASY – Ready to use acid spray cleaning product that also removes cementitious residues immediately after grouting. Removes surface residues of cement, lime and efflorescence. Suitable for cleaning the back side of porcelain tiles.
ULTRACARE KERAPOXY CLEANER – Ready to use special cleaning product to remove epoxy residues.
ULTRACARE MULTICLEANER – Concentrated cleaner with a very high yield for everyday cleaning and maintenance of surfaces.
ULTRACARE MULTICLEANER SPRAY – Ready-to-use professional cleaner.